Renovations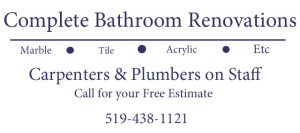 For over 47 years, Household Plumbing has been one of London's leaders in bathroom renovations. Whether your wanting just a simple update or a complete redesign, we are the best choice! We are proudly family owned and operated and always here to help!
Starting in the planning stages, our skilled team will help you design and build the bathroom you've always dreamed of. We offer a wide product range for you to choose from such as, custom glass shower & Tub doors, Shower doors and enclosures, fiberglass acrylic walls, tile & Marble walls, all from the top brands. If you can dream it we can build it! To help you choose, we have a huge showroom filled with many different styles and designs, that give you ideas and concepts, our experienced sales staff will be glad to help you pick out the best products for your renovation.
Below you will see renovations that we have completed over the years. there are showers , complete and full bathroom renovations as well as bathrooms where one did not exist. We will be updating this page frequently so check back for more !
Click any image to make it bigger.