EXTENDED! – Save up to 50%!
We've extended our sale on Neptune product until April 30th, 2017! Save up to 50% on select Neptune shower ensembles and freestanding baths!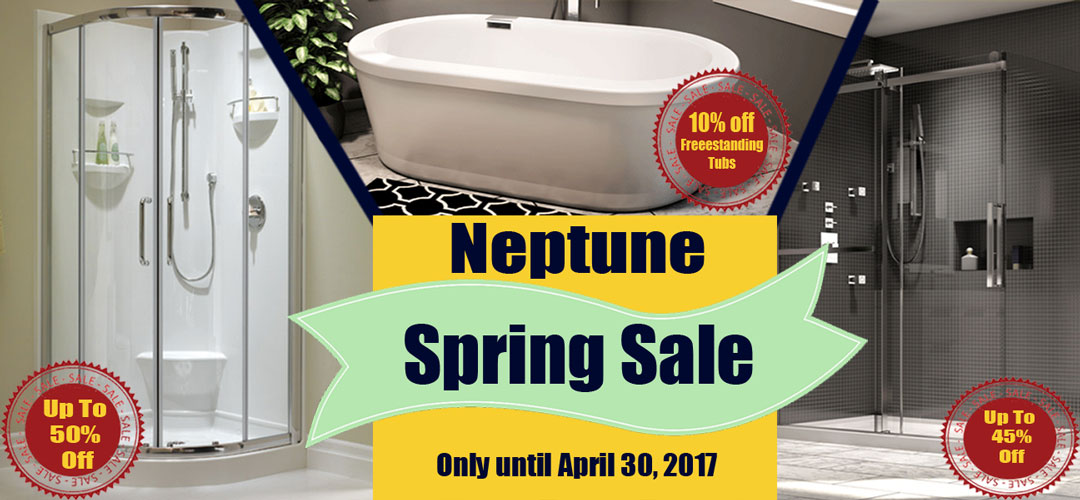 What's Included?
Izia
Izia corner Shower package complete with your choice of Belgrade or Cologne Door for Only $1,229.00! View Shower Here
Stella
Stella Corner shower package complete with Baden shower door for only $1,295.00! View Shower Here
Exhalt Shower Ensembles
Alcove Models
Exhalt 48 Alcove shower ensemble including Exhalt 48 door and Cache 4836 Base for only $1,099.00! Regularly $1,649-1,680
Exhalt 60 alcove shower ensemble including an Exhalt 60 door and Cache 6032 OR 6036 Base for only $1,249.00! Regularly $1,978-$2,009
Corner Models
Exhalt Exhalt 4836 door shower ensemble includes an Exhalt 4836 door with Cache 4836 base for only $1,229.00! Regularly $2,016-$2,048
Exhalt 6032 or 6036 shower ensemble includes Exhalt 6032 or 6036 Door with Cache 6032 or 6036 Base for only $1,439.00! Regularly $2,328-$2,513
Freestanding Tubs
Receive 10% off the retail price of any Neptune freestanding tub (Excludes Rouge), does not include any applicable freight charges.
Need your new shower or tub installed? Let our team of professional help you! Ask our sales team about our installation services
Offer valid on orders placed before April 30th, 2017 at 5:30PM EST. Cannot be combined with any other offer.
While we try to get you your product as fast as possible, delivery times may vary. Ask a salesperson to confirm, delivery to your home is available, see salesperson for details.